I feared of this day since the very beginning. Thinking about the day when we have to say good bye and turn our backs to probably never see each other again made my chest feel heavy with sadness. I didn't want this day to come, but it did…. and it was painful. It took me a lot of strength to pass through the morning without crying.
Apart from the sadness that lingered in my heart, I was also very excited for the final presentation. Everyone had worked so hard, even giving up their time to sleep but in the end everything came together and we were able to present a meaningful presentation that touched everyone's heart. I was really proud of what we did. It was perfect.
Then the night came. We went around the International Street and made more unforgettable memories as we took pictures and bought souvenirs. But by the time we had dinner, I couldn't hold my tears anymore. I just started to cry as I looked at the faces of people who were now my family. I might never see you again and it really hurt me to know that.
Our last night together was probably the most memorable night for me. We stayed up all night wishing this day would never end… but it did and eventually it was time for us to leave.
I made so many unforgettable memories during this program and I learned so much. I can't even describe how thankful I am to those who arranged this program. Through these eighteen days, we all became one big family and even though we said our good-byes, I told myself that it is not the end of our friendship. Like many people told me before, this is just the beginning. I hope this program will always be in people's heart and that we accomplish the goal of this program; to bring better future for everyone. I love AYDPO 2011and we will definitely meet again one day. I will never forget you.
Ichariba chode!!!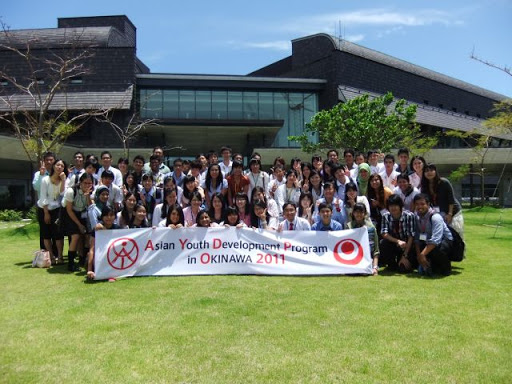 We are awesome. 🙂
Group: 2-4
Country: Myanmar (Burma)
Name: Sandy Wint Than
Eventually, we have come to the last day in the AYDPO2011.
Reviewing the entire program, we can easily find out that during the unforgettable 18 days, we have reached a large number of achievements after all. We participated in a lot of amazing activities, we experienced a lot of Japanese civilian cultures and most importantly, we promoted our awareness of water related issues.
Back to the very first day, when I first saw the title and the theme of this program, I excepted a massive number of things we are going to learn through our own experience. After reading the schedule of this program in detail, my expectation even extended. But today, when the program is about to finish, I suddenly realize that I have already experienced so many unpredictable adventures, which I will keep in my mind for my lifetime.
From deep of my heart, the major impression of this program can be concluded by a a single word: ENGAGING! Not only for those unforgettable sensation, substantial knowledge, but also for the fantastic friendship between us participates from a wild variety of countries.
Last but not least, I hope when I recall this memory thirty years later, I am still able to feel the excitement that I am feeling today. And I am still able to hug the friends that I made here as we have never been separated!
APPRECIATE THE AYDPO2011 AND LOOKING FORWARD TO THE AYDPO2012 😀
Group: 3
Country: P.R.CHINA(Beijing)
Name: TANG ZIZHONG(Michael)