It was the last day of the home stay. Sayaka(Japan), Asri(Indonesia) and I had a lazy morning. I then cooked Indian food for everyone! I was surprised to find that in such a short time I had formed such and irrevocable bond with my host family. I was indeed sorry to leave, but leave we had to. At around 2pm we reluctantly said our good byes to our host families and embarked for the Churaumi Aquarium.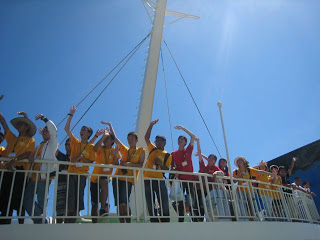 The Churaumi Aquarium was one of the best experiences I have ever had! It was so wonderful! We saw so many different kinds of sea creatures like corals, sharks, crabs, lobsters and what not! It really was an enchanting ride that left me speechless. I will cherish this memory forever.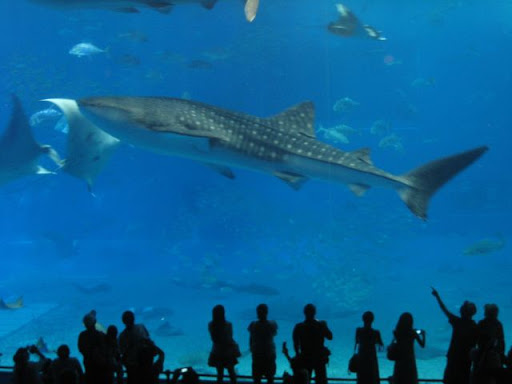 Group:1
Country:India
Name: Sanya Chhikara
I know Sanya has just posted her diary, but as we were both assigned to write for this date, I'll give you my perspective. After waking up late and missing our host child's 6:30 exercise, our host father decided to take us out horseriding!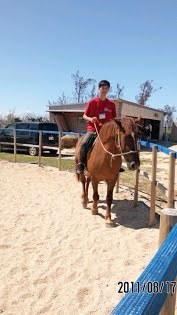 This was more fun than I had thought at first as we quickly picked up some basic skills and before we knew it we could even make the horse run really fast! However the task became more difficult as the horse kept stopping to eat grass our host child offered her. Soon, we headed towards the beach, meeting Misa, Jamie and Nana at their host families shop. After enjoying the sights and the shaved ice, we quickly headed back to our house, exchanged gifts and before we knew it we were waving goodbye to our host families at the port. We knew we would miss them but looked forward to what was planned next.
We shared laughs and stories on the ferry and bus on our way to the Churaumi Aquarium. Did you know that the 'chura' in Churaumi means beautiful? Neither did I but i soon found out why. Amazing corals, Massive whale sharks and playful dolphins awaited us. As we walked through the gorgeous exhibits Nana, Farah and myself exchanged random facts about the marine enviroment and learnt some mind-blowing new things. After the dolphins were not jumping around anymore and the adorable manatees (I love manatees) began to just lay around, we knew it was time to head back and have some dinner. After more great times on the bus journey we arrived at our next destination: Shimanchu club. I really liked the atmosphere there and I soon settled in with my roommates.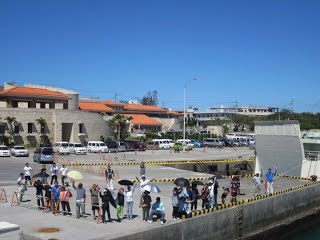 I dont want to drag this diary entry on for too long which is hard as we did a lot today. And I really mean that! So, in short, today was awesome. or beautiful. maybe incredible. Wow, It's really hard to summarize this, so how about you just enjoy these photos? After all, pictures tell a thousand words! Have fun! 🙂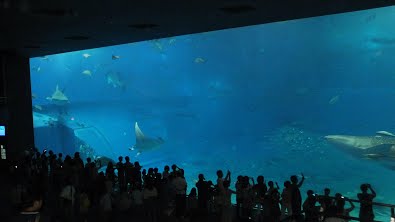 Group: 2
Country: Brunei
Name: Muhammad Azim Shamir