AYDPO2014 Overview video

AYDPO2014 Business Plan Presentation JPsub

Buiness Plan [GIA] (Made by Bissnes Plan Committee)

Vision Board (Made by Art Visual Committee)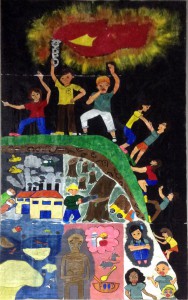 We believe that "AYDPO is the guiding light that directs us to our future"
The poster shows a group of students climbing a mountain. We are the students climbing the mountain of knowledge. We have learnt a lot during this AYDPO program especially about the problems that we face today. The torch represents AYDPO, a light shining a way for us. Before joining the program, we knew very little about our world and ourselves but now we can see clearly the future we want to create. This poster is connected to our vision poster as shown by the two students on top of the mountain. Now that they can see their future, they are pointing at it, which is shown by the other poster.

The vision we believe in is "through awareness, we can create the future that we dream of". A future where the earth is our home. The is shown as a typical Okinawan house with two Shishas on the roof top. We believe that the future will have no borders between countries and regions and that everyone will have a strong connection with each other. This is shown by the joint continents on the roof and the two students shaking hands at the bottom of the poster. The ideal future city is also shown with accessible hospitals, education facilities, lush green forests, clean energy and a sustainable source of drink water. This is the future we hope to create.
Pamphlet (Made by Art Visual Committee )

AYDPO2014 Theme song (Made by Performance Committee)